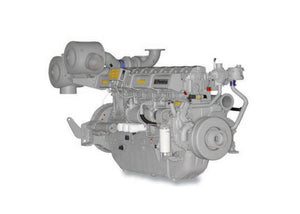 Overview 
The Perkins® 4000 Series family of 6, 8, 12 and 16cylinder diesel engines was designed in advance of today'suncompromising demands within the power generationindustry and includes superior performance and reliability.The 4008TAG1A is a turbocharged and air-to-air chargecooled, 8 cylinder diesel engine offered with either temperateor tropical cooling. Its premium features and design provideeconomic and durable operation as well as an exceptionalpower to weight ratio, excellent load acceptance and improvedgaseous emissions, plus the overall performance and reliabilitycharacteristics essential to the power generation market.
Specification
Number of cylinders : 8 vertical in-line
Bore and stroke : 160 x 190 mm 6.3 x 7.5 in
Displacement : 30.561 litres 1864 in3
Aspiration : Turbocharged and air-to-air charge cooled
Cycle : 4 stroke
Combustion system : Direct injection
Compression ratio : 13.6:1
Rotation : Anti-clockwise, viewed from flywheel end
Total lubricating capacity : 153 litres 40.4 US gal
Cooling system : Water-cooled
Total coolant capacity : 162 litres 42.8 US gal
Features
Dependable power
Individual 4 valve cylinder heads giving optimised gas flows
Unit fuel injectors ensure ultra fine fuel atomisation and hence controlled rapid combustion
Commonality of components with other engines in the 4000 Series family for reduced stocking levels
Capable emissions of 1/2 TA Luft (1986)
Low operating costs
Oil change service intervals are set at 500 hours as standard
Designed to provide low cost of ownership, simple maintenance and reduced downtime
Class leading warranty
Prime power - 12 months unlimited hours. For engines that operate less than 6,000 hours the warranty is available for two years or until the application reaches 6,000 hours (whichever is sooner).Standby power - three years or 1,500 hours (whichever is sooner).
See Perkins Warranty Policy for further details
Perkins Platinum Protection - comprehensive cover from as little as 5 percent* of the cost of your engine
World class product support
Our experienced global network of distributors and dealers, fully trained engine experts deliver total service support around the clock, 365 days a year. They have a comprehensive suite of web based tools at their disposal, covering technical information, parts identification and ordering systems, all dedicated to maximising the productivity of your engine
Perkins actively pursues product support excellence by insisting our distribution network invest in their territory to provide customers with a consistent quality of support across the globe
Throughout the entire life of a Perkins engine, we provide access to genuine parts giving 100% reassurance that you receive the very best in terms of quality for lowest possible cost, wherever your Perkins powered machine is.
Technical
Air inlet
l Mounted air filter and turbocharger
Fuel system
l Direct fuel injection system with fuel lift pump
l Digital governing to ISO 8528-5 Class G2 with isochronous capability
l Full-flow spin-on fuel oil filters
Lubrication system
l Wet full aluminium sump with filler and dipstick
l Full-flow spin-on oil filters
Cooling system
l Twin thermostats
l System designed for ambient temperatures of up to 50°C
Electrical equipment
l 24V starter motor and 24V alternator with integral regulator and DC output
l Turbine inlet temperature protection
l High coolant temperature protection switch
l Low oil pressure protection switch
Flywheel and housing
l Flywheel to SAE J620 size 18
l SAE 0 flywheel housing
Optional equipment
l 4 metre wiring harness
l Secondary electric start
l Immersion heater
l Single exhaust outlet pipe
l Exhaust counter flanges
l Temperate radiator kit
Downloads