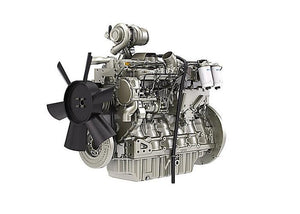 The 1106C and 1106D provide a common solution to meeting the EU Stage IIIA and U.S. EPA Tier 3 emissions regulations, providing a choice of solutions from the Perkins® 1100 Series diesel engine platform.
These clean engines are assembled around optimal, efficient manufactuing processes with state-of-the-art technology. They are built to provide the exact power solution for customers who sell their applications into lesser
regulated countries.
The new engines boast considerable increases to delivered power, torque and noise reduction. These have been achieved through changes to the manifold and combustion areas, turbocharger geometry, increased cylinder displacement.
Focusing on our common platform theme, changes to engine envelope dimensions and connection points have been
kept to a minimum.
Number of cylinders : 6 vertical in-line
Bore and stroke : 105 x 135 mm 4.13 x 5.3 in
Displacement

: 

7.01 litres 427.7 in3
Aspiration

: 

Turbocharged aftercooled
Cycle

: 

4 stroke
Combustion system

: 

Direct injection
Compression ratio

: 

18.2:1
Rotation

: 

Anti-clockwise, viewed on flywheel
Total lubricating capacity

: 

13-16 litres 3.4-4.2 US gal
Cooling system

: 

Liquid
Total coolant capacity

: 

15.2 litres 4 US gal
Features
Powered by your needs
The Perkins 1106C-70TA delivers up to 162 kW (217 bhp) and the 1106D-70TA delivers up to 129 kW (172 bhp) and over 750 Nm (553 lb·ft) of torque, providing greater productivity through an improved power to weight ratio
The availability of a large range of build options enables the product to be tailored to specific customer needs.
Options include an SAE B PTO, providing up to 63 kW (85 bhp)
Worldwide power solution
The 1106C and 1106D have been designed to be worldwide fuel tolerant, including kerosene, jet aviation fuel and 20% biofuel (RME). Options are available to meet local market needs
Lower installation costs
The 1106C and 1106D are part of the Perkins common platform of engines, maintaining a variety of hook-up points similar to the EU Stage IIIB and U.S. EPA Tier 4 Interim 1206E-E70TTA. This commonality reduces the cost impact for the customer during the changeover process
Lower operating costs
Service intervals are 500 hours standard
Perkins comprehensive warranty cover for two years (up to 3,000 hours), with three years on major engine components. These are supported by multilevel Extended Service Contracts that can be bought additionally

Product support
Perkins actively pursues product support excellence by ensuring our distribution network invest in their territory – strengthening relationships and providing more value to you, our customer
Through an experienced global network of distributors and dealers, fully trained engine experts deliver total service support around the clock, 365 days a year. They have a comprehensive suite of web based tools at their fingertips covering technical information, parts identification and ordering systems, all dedicated to maximising the productivity of your engine
Throughout the entire life of a Perkins engine, we provide access to genuine OE specification parts and service. We give 100% reassurance that you receive the very best in terms of quality for lowest possible cost .. wherever your Perkins powered machine is operating in the world
Technical
Engine ratings
SAE B PTO Drive
Timing case and gear driven auxiliaries
Flywheel housings
Flywheel and starter rings
Oil filter positions
Adapter plates
Starter motors
Fan drives and locations
Sound isolated lubricating oil sumps
Lubricating oil filters and breathers
Front-end drives
Alternators
Belt driven auxiliaries
Induction manifolds
Exhaust manifolds
Fuel filter positions
Cold start aids
Engine mountings
Power and torque curve tailoring
Cooling packs
Control panel
Air compressor
Downloads