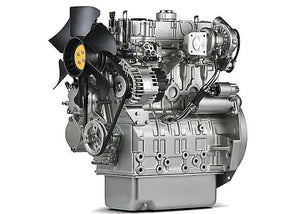 Overview
The Perkins® 400D range has been developed in consultation with our marketplace. This 2.2 litre, 4 cylinder engine complements the exciting 400 Series product line‑up, offering customers a choice of ultra-compact, lightweight power units whilst maintaining all the customer benefits they can experience from other products in the range.
The 400 Series engine family continues to set new standards in the compact engine market. Developed alongside customers to fulfil their needs in the construction, materials handling, agricultural/turf, genset and compressor markets, it is another class leading diesel range from Perkins.
Specification
Number of cylinders : 4 in-line
Bore and stroke

: 84 x 100 mm 3.3 x 3.9 in

Displacement

: 2.2 litres 135 in3

Aspiration

: Turbocharged

Cycle

: 

4 stroke
Combustion system

: 

Indirect injection
Compression ratio

: 23:3:1

Rotation

: 

Anti-clockwise, viewed on flywheel
Total lubricating capacity

: 10.6

 litres
Cooling system

: 

Liquid
Total coolant capacity

: 8.9

 litres 
Features
Ultra-compact power
The neatly installed side mounted turbocharger position provides additional power with minimum impact on cpackage size making fitment into machines easier.
Clean and quiet
Noise levels have been kept to a minimum
Subjective harshness has been carefully controlled making the engine sound even quieter
Durable and reliable
Product design and process improvements enhance both engine reliability and durability
A new improved (advanced) governor, valve seat inserts, and new compliance testing deliver reliability of 6,000 hours
A standard two-year warranty demonstrates our confidence in durability and reliability
Low operating costs
Approved for operation on biodiesel* concentrations of up to 20%
Oil and filter changes are 500 hours, dependent on load factor
Engine durability and reliability, the warranty offering and ease of installation combine to drive down the cost of
ownership
Warranties and Service Contracts

We provide one-year warranties for constant speed engines and two-year warranties for variable speed models, as standard. These are supported by multilevel Extended Service Contracts that can be bought additionally

Product support
With highly trained Perkins distributors in thousands of communities in over 180 countries, you are never far awayfrom expert product knowledge, genuine parts and a range of advanced diagnostic technology for keeping your engine in peak condition
Technical
Cast iron engine block
Flywheel and flywheel housing
CTD fuel injection pump
Spin on fuel filter
Glow plug starting aid
Lub oil sump
Spin on lub oil filter
Inlet manifold
Cast iron exhaust manifold – side outlet
Coolant pump belt driven
Choice of cooling fans
Starter motor 12 volt and 24 volt
Alternator 12 volt and 24 volt
ESOS (Electric shut-off solenoid)
Lub oil pressure switch
Coolant temperature switch
SAE A PTO
Electronic controlled governing as an option
High and low fan position
 Downloads