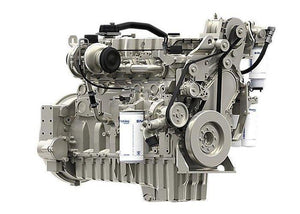 Overview
The Perkins® 1706D-E93TA is a 6 cylinder, 9.3 litre engine that
produces up to 310 kW (416 hp) of power and 1810 Nm (1335 lb-ft) of torque out of a compact, lightweight package.

The 1706D model is a platform extension of the 1706J for highly regulated countries (HRC) and meets China Nonroad Stage III, Brazil MAR-1 and UN R96 Stage IIIA emission standards and UN R120 performance standard for measurement of net power and specific fuel consumption. The 1706D has a common core engine, high pressure common rail fuel system, similar machine interfaces and controls architecture. This simplifies the decision-making process for global customers by allowing them to standardise their worldwide product offering and reap the benefits of common installation, maintenance and service requirements from a single supplier solution.

The 1706D offers outstanding power density up to 33 kW/L (44 hp/L) that allows OEMs to downsize their engine platform without sacrificing performance or reliability. It is designed to allow simple, low-cost installations with a full range of configurable attachment option including installed radiators from the factory. End users will enjoy a low cost of ownership from low fuel consumption.

Typical applications for the Perkins 1706D include air compressors, hydraulic excavators, ag tractors/harvesters, pumps and rock crushers/ screeners.
Specification
Number of cylinders : 6 vertical in-line
Bore and stroke

: 

115 x 149 mm 4.5 x 5.8 in
Displacement

: 

9.3 litres 567.5 cubic in
Aspiration

: 

Turbocharged aftercooled
Cycle

: 

4 stroke
Combustion system

: 

Direct injection
Compression ratio

: 

16.5:1
Rotation

: 

Anti-clockwise, viewed on flywheel
Total lubricating capacity

: 

30 litres 7.9 US gal
Cooling system

: 

Liquid
Total coolant capacity

: 

22 litres 5.8 US gal
Features

Dependable power
World-class manufacturing capability and processes coupled with proven core engine designs assure reliability, quiet operation and many hours of productive life
High performance
High power and torque density, providing the opportunity to downsize in engine displacement without sacrificing performance or reliability
Lifetime of low cost
Fuel consumption optimised to match operating cycles of a wide range of equipment and applications
Ease of installation
Fully configurable engine options and industrial open power unit (IOPU) available from factory to avoid significant design, validation and manufacturing costs
The 1706D offers platform commonality with the 1706J for highly regulated countries to reduce cost of installation and support a global customer base by sharing a common core engine and offering similar machine interfaces and controls architecture.
Local support, global coverage
Perkins recognise that the customer relationship is important to machine manufacturers and we can offer a range of flexible solutions to help provide appropriate support, either to the OEM's network or directly to the machine customer
With highly trained Perkins distributors in thousands of communities in over 180 countries, you are never far away from expert product knowledge, genuine parts and a range of advanced diagnostic technology for keeping your engine in peak condition
Technical

Air inlet
Control system
Full electronic control system with all system functions controlled from a single, engine-mounted electronic control module (ECM)
All connectors and wiring looms waterproof and designed to withstand harsh off-highway environments
Flexible and configurable software features and well supported SAE J1939 CAN bus enables highly integrated machines
Cooling system
Vertical outlet thermostat housing, centifugal water pump
Detailed guidance on cooling system design and validation available to ensure machine reliability
Flywheel and housing
Wide choice of drivetrain interfaces, SAE2 and SAE1 configurations
Fuel and fuel system
High Pressure Common rail fuel system
Oil system
Choice of sumps for different applications
Open crankcase ventilation (OCV) system with fumes disposal (optional OCV filter system)
Oil cooler, oil filler, oil filter, oil dipstick, oil pump (gear-driven)
Power take-off
Available SAE No. 1 flywheel housings with rear power take-off (PTO) drive options for SAE B, SAE C or combination.
Engine power can also be taken from the front of the engine on some applications
Downloads