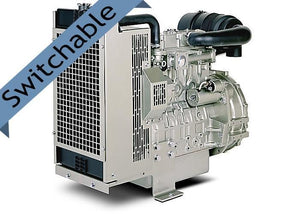 Overview
The Perkins® 400 Series engine family continues to set new standards in the compact engine market. Developed alongside customers to fulfill their needs in the generator set, compressor, agricultural and general industrial markets. These new ElectropaKs provide compact power, from a robust family of 3 and 4 cylinder diesel engines designed to provide economic and durable operation at prime and standby duties, hitting the key power nodes required by the power generation industry.
Specification
Number of cylinders : 4 vertical in-line
Bore and stroke

 

: 84 x 100 mm / 3.3 x 3.9 in

Displacement

 

: 2.216 litres / 135.2 in3

Aspiration

 

: 

Naturally aspirated
Cycle

 

: 

4 stroke
Combustion system

 

: 

Indirect injection
Compression ratio

 

: 

23.3:1
Rotation

 

: 

Anti-clockwise, viewed on flywheel
Total lubricating capacity

 

: 10

.6 litres / 2.8 US gal
Cooling system

 

: 

Water cooled
Total coolant capacity

 

: 7

.0 litres / 1.8 US gal
Features
Powered by your needs
The 404A-22G1 ElectropaK is a powerful but quiet 2.2 litre naturally aspirated 4-cylinder compact package
Compact, clean, efficient power
Design features on the 400D range of ElectropaKs ensures clean rapid starting in all conditions whilst delivering impressive performance with low operating costs in a small, efficient package size 
Lower operating costs
Approved for operation on biodiesel* concentrations of up to 20%
Oil and filter changes are 500 hours, dependent on load factor
Engine durability and reliability, the warranty offering and ease of installation combine to drive down the cost of ownership
Warranties and Service Contracts

We provide one-year warranties for constant speed engines and two-year warranties for variable speed models, as standard. These are supported by multilevel Extended Service Contracts that can be bought additionally
Product support
With highly trained Perkins distributors in thousands of communities in over 180 countries, you are never far away from expert product knowledge, genuine parts and a range of advanced diagnostic technology for keeping your engine in peak condition
Technical
Air inlet
Fuel system
Mechanically governed cassette type fuel injection pump
Split element fuel filter
Lubrication system
Wet steel sump with filler and dipstick
Spin-on full-flow lub oil filter
Cooling system
Thermostatically-controlled system with belt driven coolant pump and pusher fan
Mounted radiator, piping and guards
Electrical equipment
12 volt starter motor and 12 volt 15 amp alternator with DC output
Oil pressure and coolant temperature switches
12 volt shut-off solenoid energised to run
Glow plug cold start aid and heater/starter switch
Flywheel and housing
1500 rpm
High inertia flywheel to SAE J620 Size 190.5 mm (7½ in) Heavy
Flywheel housing SAE 4 Long
Mountings
Front and rear engine mounting bracket
Optional equipment
Option groups
A selection of optional items is available to enable you to prepare a specification precisely matched to your needs.
Downloads