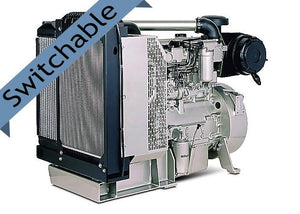 Overview
Building upon Perkins proven reputation within the power generation industry, the Perkins
®
1100 Series range of ElectropaK engines now fit even closer to the needs of their customers.
With the 1104C-44TAG1 unit, Perkins has engineered for its customers even higher levels of reliability, yet lowered the cost of ownership with six cylinder capability from a four cylinder package performance. Crucially, bare engine noise is lower than ever before.
Rapid starting and pick-up are naturally built-in especially for cold operation, but where legislation or local markets demand an emissions capability, then the 1104C-44TAG1 satisfies EU 2007 Stage II mobile off-highway legislation; and also complies to TA Luft (1986) regulations.
1100 Series see the marriage of technology to customer need. A 4.4 litre unit very quietly setting a new standard in prime power supply and standby for the power generation industry.
Specifications
Number of cylinders 
4 vertical in-line 
Bore and stroke 
105 x 127 mm 
4.3 x 5.0 in 
Displacement 
4.41 litres 
269 in3 
Aspiration 
Turbocharged, air to air charge cooled 
Cycle 
4 stroke 
Combustion system 
Direct injection 
Compression ratio 
18.2:1 
 
Rotation 
Anti-clockwise, viewed on flywheel 
Total lubricating capacity 
8.0 litres 
2.1 US gal 
Cooling system 
Water-cooled 
Total coolant capacity 
12.6 litres 
3.3 US gal 
Features
Compact and efficient power
The Perkins 1100 Series family was developed following an intensive period of customer research. The 3.3 and 4.4 litre engines feature new cylinder blocks which ensure bore roundness is maintained under the pressures of operation, as well as significantly reducing mechanical and combustion noise. A new cross-flow cylinder head design optimises combustion control, and combines with turbocharger and charge cooler technology to achieve the best combination of power delivery and low exhaust emissions
Cleaner and quieter power
The refined structure of the 1100C range leads to an exceptionally low noise signature. To meet environmental needs swirl conditioned air is delivered through the new cross-flow cylinder head, and burns cleanly with the high pressure fuel from an advanced technology rotary pump
Cost effective power
The compact packaging and low noise performance of the 1100C range bring clear benefits to the Genset packager. Low cost of operation is assured by lower fuel and oil consumption and 500 hour service intervals
Warranties and Service Contracts
We provide one-year warranties for constant speed engines and two-year warranties for variable speed models, as standard. These are supported by multilevel Extended Service Contracts that can be bought additionally

Product support
Perkins actively pursues product support excellence by ensuring our distribution network invest in their territory – strengthening relationships and providing more value to you, our customer

Through an experienced global network of distributors and dealers, fully trained engine experts deliver total service support around the clock, 365 days a year. They have a comprehensive suite of web based tools at their fingertips covering technical information, parts identification and ordering systems, all dedicated to maximising the productivity of your engine

Throughout the entire life of a Perkins engine, we provide access to genuine OE specification parts and service. We give 100% reassurance that you receive the very best in terms of quality for lowest possible cost .. wherever your Perkins powered machine is operating in the world
Technical
Air inlet
Fuel system
Rotary type pump

Ecoplus fuel filter
Lubrication system
Wet steel sump with filler and dipstick

Spin-on oil filter
Cooling system
Thermostatically-controlled system with gear-driven circulation pump and belt-driven pusher fan

Mounted radiator and piping incorporating air-to-air charge cooler
Electrical equipment
12 volt starter motor and 12 volt 65 amp alternator with DC output

12 volt shutdown solenoid energised to run

Glow plug cold start aid
Flywheel and housing
Flywheel to SAE J620 size 10/111⁄2

SAE 3 flywheel housing
Literature
Optional equipment
24 Volt alternator

24 Volt starter motor

Workshop manual


Parts book
Downloads